Mission
The mission of Response Physical Therapy is to:
Provide the highest quality, individualized, research based physical therapy.
Provide a safe, respectful, and enjoyable atmosphere for the patient.
Collaborate with other healthcare providers to help the patient efficiently reach their healthcare goals.
Cultivate lifelong relationships that are based on trust and mutual respect.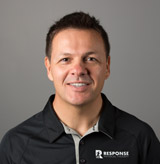 Dan Cyr, Physical Therapist, Owner and Founder
Dan founded Response Physical Therapy to meet the physical therapy needs of athletes and sports enthusiasts of all ages.  He earned his physical therapy degree from the University of New England where he played varsity soccer and club lacrosse.  The combination of playing collegiate soccer and his knowledge of the human body has led him to a career specialized in orthopedics and sports medicine.  He specializes in the rehabilitation of injuries of the shoulder and knee, orthopedic injuries, and sports injuries.  He has 20 years of experience helping injured soccer players, basketball players, golfers, tennis players, and other athletes return to their sport successfully.  Dan has served as the head physical therapist for the Carolina Railhawks.  He has been a speaker at officially credentialed continuing education conferences.  He has created his own ACL injury prevention program and currently conducts education seminars on ACL injury prevention.  He offers training and educational seminars for teams, allied health and fitness professionals.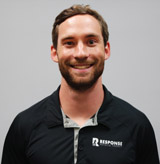 Jeffrey Harrington, Physical Therapist
Jeffrey joined Response Physical Therapy in August 2017 after earning his Doctor of Physical Therapy degree from East Carolina University. During his time at ECU, he completed advanced coursework in sports physical therapy and rehabilitation for the injured runner. Prior to physical therapy school, he received his Bachelor of Science in Exercise Science from Appalachian State University.
Jeffrey's desire to help others return to activity and an overall healthy lifestyle, combined with his passion and knowledge of sports, led him to pursue a career in orthopedics and sports medicine. His clinical interests include injury prevention, post-surgical rehab, and sports-related concussions. Jeffrey believes all patients should receive quality, patient-centered care that is tailored to their specific needs and demands. He is committed to staying up to date on the latest physical therapy evidence and plans to pursue further training related to sports concussions, strength and conditioning, dry needling, and manual therapy.
Jeffrey is originally from Albemarle, NC. He grew up playing soccer, basketball, and baseball, and he has recently enjoyed developing his golf game. He played club soccer while attending Appalachian State University. Jeffrey also enjoys spending time with family and friends, working out, and being outdoors.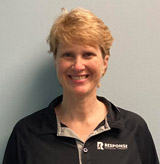 Karen Chong, Physical Therapist
Karen has over 20 years of experience as a physical therapist working in outpatient settings.  She uses a "hands-on" treatment approach and thinks it is important to treat the whole person rather than just the area of pain or dysfunction. Karen believes patient education is extremely important in helping patients understand what causes their symptoms and empowering them to help themselves.  She is Manual Therapy Certified, Level 1 Dry Needling Certified, specializes in Vestibular Rehabilitation (treatment of vertigo and various balance disorders), and treats TMJ dysfunction. Outside of work she treasures time with her husband, loves to hike, travel, and ballroom dance.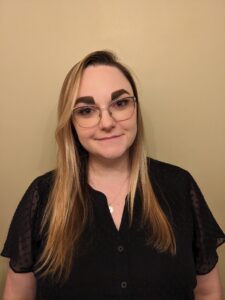 Nicole Small, Physical Therapist
Nicole moved to North Carolina to pursue her Doctorate in Physical Therapy from Methodist University which she graduated from in 2020. She is originally from Illinois and attended Southern Illinois University in Edwardsville where she earned a Bachelor's Degree in Exercise Science and a Master's Degree in Exercise Physiology. As a physical therapist, she enjoys bringing a fun new insight into her patients' rehabilitation. Her areas of interest include sports and recreational injuries, geriatrics, and post-operative rehabilitation. Her treatment style incorporates a combination of hands-on techniques with a very functional approach to help her patients meet their goals and return to the activities they love. In her free time Nicole enjoys the outdoors by hiking, kayaking, and exploring new areas of North Carolina with her fiancé and dog.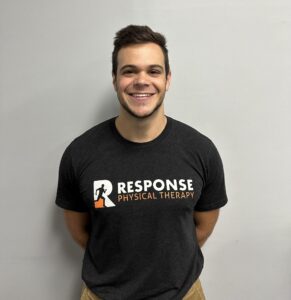 David Lawson, Physical Therapist
David is from Mooresville, Indiana where he grew up playing, coaching, and reffing soccer. He attended the University of Indianapolis where he earned his Bachelor's degree in Exercise Science and Master's degree in Sport Performance Exercise Science. David moved to North Carolina in 2020 to attend school at Duke University for his Doctor of Physical Therapy Degree. Upon graduation, he began working at Response PT in August of 2023. David's passion for PT began in high school with his frequent exposure to therapy for various knee and ankle injuries. This, in combination with his love for sports and passion for helping others, led him to pursue a career in sports medicine physical therapy.
In his free time, David enjoys playing soccer, snowboarding, pickleball, weightlifting, playing the cello, and fall off the bone BBQ ribs.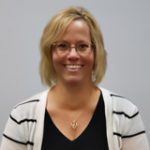 Jenny Arostegui, Office Manager
Back to work after 27 years, Dan gave me a chance at a new career.  Five great kids with the same awesome guy, I love sports and sappy movies make me cry.  We have two dogs but I want a goat, I care about people and what floats your boat.  I love to do Sudoku and fish and watch birds, I channel Dr. Seuss because I love rhyming words.  Office Manager by day and Super Mom by night, do some things wrong but thankful for the many things that are going right!